Russian/U.S. International Coalition Formed
---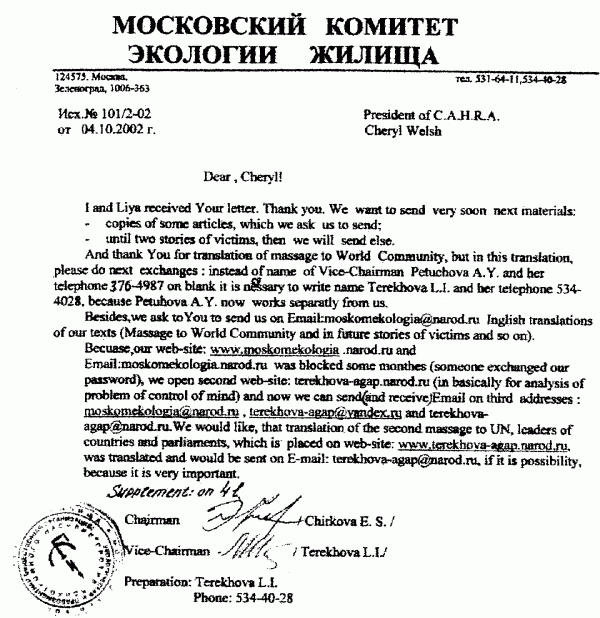 Emilia Cherkova and Leah Terekhova of the Russian public organization "Moscow Committee for the Ecology of Dwellings": against psycho-physical (psychotronic) violence against the population have accepted the positions of Cahra Advisory Board members. At a general meeting of the Moscow Committee for the Ecology of Dwellings, Cheryl Welsh was included in their Executive Committee, which she accepted in March 2002.
Emilia has sent several articles and books on the topic of mind control in Russia. Also refer to Russian Translation Project on Cahra website for further russian book and article translations concerning psychotronic weapons. Special thanks to Ramon Ruelas for donating several months to translating several articles and chapters, see below. He has translated a very large amount of Russian journal and newspaper articles, Russian books on government and science issues and the correspondence of Russian human rights groups. Ramon has completed very professional quality translations. His translations reflect his extensive educational background at the graduate level. I have found him to be an absolute pleasure to work with. In addition, he has contributed hundreds of hours to Cahra on a volunteer basis.
Like the U.S. victims, Emilia claims that relatives died after they had been threatened by phone to stop pressing the issue. They claim this is a dangerous business. She carries documents with her as her apartment is broken into and searched. She said that Atryum Borovik, who published the Top Secret (Sovershenno Sektretno) newspaper which was full of expose's on various officials and criminals and died in a mysterious helicopter crash had express support for what they were doing when they met him to discuss. Contact information for the Moscow Committee is:
Emile Sergeevne Chirkovoi, (She only speaks Russian)
Korpus 1006, Kvartira 363
Moscow Zelenograd, Russia 103575
Fax: 534-1714
Tel: 534-4028
http://www.moskomekologia.narod.ru
email: moskomekologia@narod.ru (checked weekly)
Note: This human rights group appreciates donations and are in need of a computer.
---